Almost everyone is familiar with Intuit QuickBooks, as it is one of the leading accounting software, with over 7 million users. They offer both online and desktop software that helps business owners with everything from managing payroll, operations, tracking sales, and numerous other functions.
With so many unique abilities, it is hard to know which version is right for your business. Whether you are looking at QuickBooks Online (QBO) or QuickBooks Desktop (desktop) there are many features that they both share:
Creating professional invoices
Automatically schedule and send invoices
One-click sales and tax reports
Track sales and expenses
Mileage tracking
Manage accounts payable
Connecting over 650 cloud-based apps
The primary difference and the biggest deciding factor are how information is accessed. QBO is cloud-based, and easily accessible from wherever you are, as long as you have internet. Especially now, with so many companies transitioning to a work from home environment or even a hybrid environment, this can be a game changer for your company. QBO also offers access for up to 25 users and backup services.
Desktop isn't without its benefits, by downloading the software directly to your laptop or PC, you have the ability to work whether or not you have internet. The desktop version also allows you to manage multiple companies at once, which is not the case for QBO, as it requires a separate subscription for each company.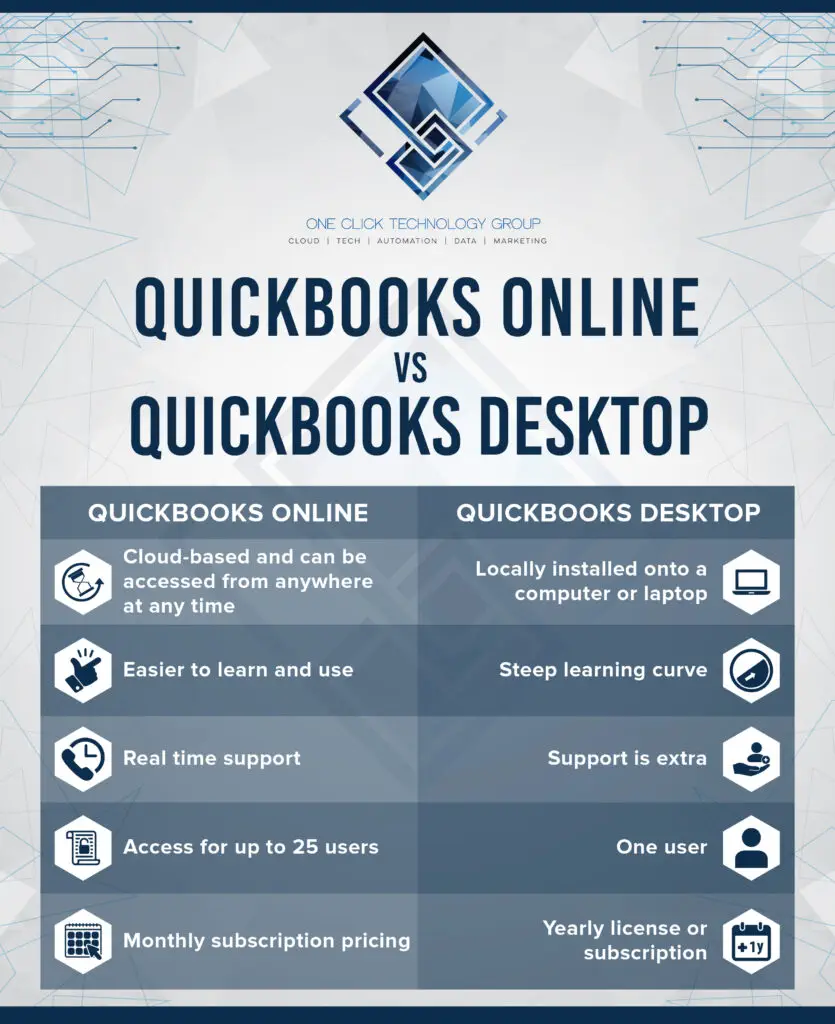 One Click Technology Group is here to help analyze your needs and select the best version for your business. Both QuickBooks Online and QuickBooks Desktop offers a plethora of features that will help your business. By partnering with Intuit, our team will walk you through the entire process, from selection, to set-up, to deployment and support. Contact us today to find out how Intuit QuickBooks can help you.